I have a problem with the term "African American." In fact, i hate using it to describe folks of African descent and am much more comfortable referring to them as black people. Most of my black friends agree.
Says
Pam
, "I don't use African-American unless quoting someone else. You're correct that this is some sort of politically correct moniker."
While chatting with Pam I suggested that "African American" is an expression used by white people to make themselves feel/look more culturally sensitive. Further, I hardly ever hear blacks refer to themselves as "African American." Frankly, blacks never really embraced the expression.
They're no more comfortable with "African American" than I would be with "European American." Not only does the term itself
sound
clunky, it's just bizarre making a reference to the continent of my ancestor's birth to describe myself. This is not to suggest I'm not proud of my Irish heartige, quite the contrary. But for others to characterize me in ways (and with words) I would never use to describe myself makes me wonder how black feel about being referred to as "African American" by white people. And the feedback I got indicated they are not offended with the term "black."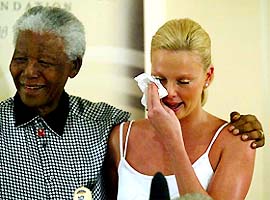 Besides, the moniker is totally illogical, as
Miss Pam
points out, "It makes no sense - white Charlize Theron, born in South Africa, should, based on that definition, be African American. It's so stupid." I agree.
Where do you fall on this one?
(Click pic of African-born Oscar winner Charlize Theron with former South African President Nelson Mandela at the Nelson Mandela Foundation in Johannesburg)